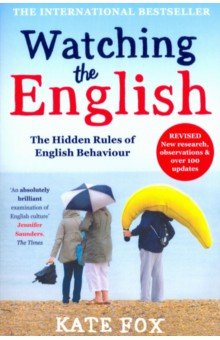 Автор:
Fox Kate
Издательство:
Hodder
Год издания: 2018
ISBN: 9781444785203
Наличие:
на складе
In WATCHING THE ENGLISH anthropologist Kate Fox takes a revealing look at the quirks, habits and foibles of the English people. She puts the English national character under her anthropological microscope, and finds a strange and fascinating culture, governed by complex sets of unspoken rules and byzantine codes of behaviour. The rules of weather-speak. The ironic-gnome rule. The reflex apology rule. The paranoid-pantomime rule. Class indicators and class anxiety tests. The money-talk taboo and many more . . . Through a mixture of anthropological analysis and her own unorthodox experiments (using herself as a reluctant guinea-pig), Kate Fox discovers what these unwritten behaviour codes tell us about Englishness.



Gwendy's Button Box (B)
,
King Stephen
,
Chizmar Richard
Hodder
2019, ISBN: 978-1-4736-9165-0

One of Our Thursdays Is Missing
,
Fforde Jasper
Hodder
2018, ISBN: 9780340963104
It is a time of unrest in the Book World. Only the diplomatic skills of ace literary detective Thursday Next can avert a devastating genre war. But a week before the peace talks, Thursday vanishes. Has she simply returned home to the Real World or is this something more sinister? All is not yet lost. Living at the quiet end of speculative fiction is the written Thursday Next, eager to prove herself worthy of her illustrious namesake. The fictional Thursday is soon hot on the trail of her factual alter-ego, and quickly stumbles upon a plot so fiendish that it threatens the very Book World itself.

The Trespasser. Dublin Murder Squad
,
French Tana
The masterful Richard & Judy pick, from the Sunday Times bestselling author. Winner of the Irish Book Awards Crime Fiction Book of the Year. 'A TRULY GREAT WRITER' Gillian Flynn, author of Gone Girl' ONE OF THE BEST CRIME WRITERS WORKING TODAY' Guardian You can beat one killer. Beating your own squad is a whole other thing. Being on the Dublin Murder squad is nothing like Detective Antoinette Conway dreamed. Her working life is a stream of thankless cases and harassment. Antoinette is tough, but she's getting close to the breaking point. The new case looks like a regular lovers' quarrel gone bad. Aislinn Murray is blond, pretty and lying dead next to a table set for a romantic dinner. There's nothing unusual about her — except that Antoinette has seen her somewhere before. And her death won't stay neat. Other detectives want her to arrest Aislinn's boyfriend, fast. There's a shadowy figure at the end of Antoinette's road. And everything they find out about Aislinn takes her further from the simple woman she seemed to be. Antoinette knows the harassment has turned her paranoid, but she can't tell just how far gone she is. Is this the case that will make her career — or break it? 'ONE OF THE BEST THRILLER WRITERS WE HAVE' Observer

Thinner
,
King Stephen
Hodder
2017, ISBN: 978-1-4447-5344-8
The «extraordinary» (Booklist) novel of one man's quest to find the source of his nightmare and to reverse it before he becomes…nothing at all. This #1 national bestseller from Stephen King, writing as Richard Bachman, «pulsates with evil…it will have you on the edge of your seat» (Publishers Weekly). "You can't do anything....It's gone too far. You understand, Halleck? Too...far. " Attorney Billy Halleck seriously enjoys living his life of upper-class excess. He's got it all-an expensive home in Connecticut, a loving family...and fifty extra pounds that his doctor repeatedly warns will be the death of him. Then, in a moment of carelessness, Halleck commits vehicular manslaughter when he strikes a jaywalking old woman crossing the street. But Halleck has some powerful local connections, and gets off with a slap on the wrist...much to the fury of the woman's mysterious and ancient father, who exacts revenge with a single word: "Thinner. " Now a terrified Halleck finds the weight once so difficult to shed dropping effortlessly-and rapidly-by the week. Soon there will be nothing left of Billy Halleck...unless he can somehow locate the source of his living nightmare and reverse what's happened to him before he utterly wastes away.... "Under any name King mesmerizes the reader. " Chicago Sun-Times "Pulsating with evil . . . Will have you on the edge of your seat! " -Publishers Weekly "One of America's top storytellers. " -Toronto Star

From a Buick 8. Почти как бьюик
,
King Stephen
Hodder
2017, ISBN: 978-1-4447-5367-7

A Street Cat Named Bob. How One Man and His Cat Found Hope on the Streets
,
Bowen James
Hodder
2017, ISBN: 978-1-444-73711-0
When James Bowen found an injured, ginger street cat curled up in the hallway of his sheltered accommodation, he had no idea just how much his life was about to change. James was living hand to mouth on the streets of London and the last thing he needed was a pet. Yet James couldn't resist helping the strikingly intelligent torn cat, whom he quickly christened Bob. Soon the two were inseparable and their diverse, comic and occasionally dangerous adventures would transform both their lives, slowly healing the scars of each other's troubled pasts. A Street Cat Named Bob is a moving and uplifting story that will touch the heart of anyone who reads it.

How to Speak Dragonese
,
Cowell Cressida
Hodder
2016, ISBN: 978-0-340-99909-7
Read the books that inspired the hit DreamWorks film How to Train Your Dragon.

How to Ride Dragon's Storm
,
Cowell Cressida
Hodder
2016, ISBN: 978-0-340-99912-7
Read the books that inspired the hit DreamWorks film How to Train Your Dragon.

How to Cheat Dragon's Curse
,
Cowell Cressida
Hodder
2016, ISBN: 978-0-340-99910-3
Read the books that inspired the hit DreamWorks film How to Train Your Dragon.

Finders Keepers
,
King Stephen
Hodder
2016, ISBN: 978-1-4736-9894-9
A riveting crime thriller about a reader whose obsession with a reclusive writer goes too far, featuring the same trio of unlikely and winning heroes King introduced in MR MERCEDES. 1978: Morris Bellamy is a reader so obsessed by America's iconic author John Rothstein that he is prepared to kill for a trove of notebooks containing at least one more unpublished novel. 2009: Pete Saubers, a boy whose father was brutally injured by a stolen Mercedes, discovers a buried trunk containing cash and Rothstein's notebooks. 2014: After thirty-five years in prison, Morris is up for parole. And he's hell-bent on recovering his treasure. Now it's up to retired detective Bill Hodges — running an investigative company called 'Finders Keepers' — to rescue Pete from an ever-more deranged and vengeful Morris...Not since Misery has King written with such visceral power about a reader with such a dangerous obsession. Finders Keepers is spectacular suspense, and it is King writing about how literature shapes a life for good, for bad, for ever.

Mr Mercedes
,
King Stephen
Hodder
2016, ISBN: 978-1-4447-8864-8
A cat-and-mouse suspense thriller featuring Bill Hodges, a retired cop who is tormented by 'the Mercedes massacre', a case he never solved. Brady Hartsfield, perpetrator of that notorious crime, has sent Hodges a taunting letter. Now he's preparing to kill again. Each starts to close in on the other in a mega-stakes race against time.

Enid Blyton's Christmas Stories
,
Blyton Enid
Hodder
2016, ISBN: 978-1-4449-2257-8
Enid Blyton's timeless collection of Christmas stories — an ideal gift for anyone who loved the stories during their own childhood to pass on to the next generation of readers. Here is a wonderful selection to read and share. From Santa Claus and his helpers to a family putting up their tree, the characters in these stories embrace the Christmas spirit. There is mystery and magic, laughter and mischief, the joy of shared times and plenty of delicious food — many of the ingredients which have been delighting Enid Blyton's readers for more than seventy years. The stories previously appeared in magazines and anthologies from the 40s and 60s are. This collection contains the original texts and is unillustrated. The collection contains: The Lost Presents Santa Claus Gets a Shock A Week Before Christmas; The Christmas Tree Aeroplane Good Gracious, Santa Claus! The Tiny Christmas Tree What Happened on Christmas Eve The Little Reindeer Bell The Very Full Stocking In Santa Claus's Castle What They Did at Miss Brown's School Santa Claus Gets Busy The Christmas Tree Fairy The Little Christmas Tree A Family Christmas -Christmas Holidays A Family Christmas — Bringing Home the Holly; A Family Christmas -The Curious Mistletoe A Family Christmas — Balder the Bright and Beautiful A Family Christmas — The Christmas Tree A Family Christmas — A Christmassy Afternoon A Family Christmas -Bringing in the Yule Log A Family Christmas -Christmas Carols A Family Christmas -A Visitor in the Night A Family Christmas -The Story of Santa Claus A Family Christmas -Christmas Day.