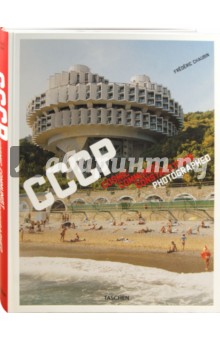 Автор:
Chaubin Frederic
Издательство:
Taschen
Год издания: 2011
ISBN: 978-3-8365-2519-0
Наличие:
на складе
A photographic record of 90 weird and wonderful buildings from the last decades of the USSR Photographer Frederic Chaubin reveals 90 buildings sited in fourteen former Soviet Republics which express what he considers to be the fourth age of Soviet architecture. His poetic pictures reveal an unexpected rebirth of imagination, an unknown burgeoning that took place from 1970 until 1990. Contrary to the 1920s and 1950s, no «school» or main trend emerges here. These buildings represent a chaotic impulse brought about by a decaying system. Their diversity announced the end of the Soviet Union. Taking advantage of the collapsing monolithic structure, the holes in the widening net, architects went far beyond modernism, going back to the roots or freely innovating. Some of the daring ones completed projects that the Constructivists would have dreamt of (Druzhba Sanatorium, Yalta), others expressed their imagination in an expressionist way (Palace of Weddings, Tbilisi). A summer camp, inspired by sketches of a prototype lunar base, lays claim to Suprematist influence (Prometheus youth camp, Bogatyr). Then comes the «speaking architecture» widespread in the last years of the USSR: a crematorium adorned with concrete flames (Crematorium, Kiev), a technological institute with a flying saucer crashed on the roof (Institute of Scientific Research, Kiev), a political center watching you like Big Brother (House of Soviets, Kaliningrad). This puzzle of styles testifies to all the ideological dreams of the period, from the obsession with the cosmos to the rebirth of identity. It also outlines the geography of the USSR, showing how local influences made their exotic twists before the country was brought to its end. Frederic Chaubin's Cosmic Communist Constructions Photographed is elected best book on architecture of the year by the International Artbook and Film Festival in Perpignan/France (Festival International du Livre d'Art & du Film Perpignan). The photographer: Frederic Chaubin has been, for the last fifteen years, editor-in-chief of the French lifestyle magazine Citizen K. Since 2000 he has regularly featured works combining text and photography. The CCCP collection research was carried out from 2003 to 2010, through an intuitive and creative travel process. This project has been shown throughout the world, from Japan to the United States.


Art Record Covers
Since the dawn of modernism, visual and music production have had a particularly intimate relationship. From Luigi Russolo's 1913 Futurist manifesto L'Arte dei Rumori (The Art of Noise) to Marcel Duchamp's 1925 double-sided discs Rotoreliefs, the 20th century saw ever more fertile exchange between sounds and shapes, marks and melodies, and different fields of composition and performance. In Francesco Spampinato's unique anthology of artists' record covers, we discover the rhythm of this particular cultural history. The book presents 450 covers and records by visual artists from the 1950s through to today, exploring how modernism, Pop Art, Conceptual Art, postmodernism, and various forms of contemporary art practice have all informed this collateral field of visual production and supported the mass distribution of music with defining imagery that swiftly and suggestively evokes an aural encounter. Along the way, we find Jean-Michel Basquiat's urban hieroglyphs for his own Tartown record label, Banksy's stenciled graffiti for Blur, and a skewered Salvador Dali butterfly on Jackie Gleason's Lonesome Echo. There are insightful analyses and fact sheets alongside the covers listing the artist, performer, album name, label, year of release, and information on the original artwork. Interviews with Tauba Auerbach, Shepard Fairey, Kim Gordon, Christian Marclay, Albert Oehlen, and Raymond Pettibon add personal accounts on the collaborative relationship between artists and musicians.

Contemporary Concrete Buildings
,
Jodidio Philip
Concrete? That characterless stuff of parking lots or Communist tower blocks, right? Well, yes. And no. Concrete is actually a name applied to a remarkably wide range of building substances, and, when properly handled, is one of the noble materials of contemporary architecture. A kind of «liquid stone» at the outset, it is malleable, durable, and capable of prodigious feats of engineering. This Bibliotheca Universalis edition highlights the best work done in concrete of recent years. It includes such stars as Zaha Hadid, Herzog & de Meuron, and Steven Holl, but also surprising new architects like the Russians SPEECH and artists such as James Turrell, who turned the famous concrete spiral of Frank Lloyd Wright's Guggenheim in New York into the setting of one of his most remarkable pieces.

Case Study Houses
,
Shulman Julius
,
Goessel Peter
,
Smith Elizabeth A.T.
The Case Study House program (1945-1966) was an exceptional, innovative event in the history of American architecture and remains to this day unique. The program, which concentrated on the Los Angeles area and oversaw the design of 36 prototype homes, sought to make available plans for modern residences that could be easily and cheaply constructed during the postwar building boom. The program's chief motivating force was Arts & Architecture editor John Entenza, a champion of modernism who had all the right connections to attract some of architecture's greatest talents, such as Richard Neutra, Charles and Ray Eames, and Eero Saarinen. Highly experimental, the program generated houses that were designed to redefine the modern home, and had a pronounced influence on architecture-American and international-both during the program's existence and even to this day. TASCHEN brings you a retrospective of the entire program with comprehensive documentation, brilliant photographs from the period and, for the houses still in existence, contemporary photos, as well as extensive floor plans and sketches.

The Book of Palms
,
Lack H. Walter
All known genera of the palm family in 240 exquisite illustrations On December 15, 1868, Carl Friedrich Philipp von Martius (1794-1868), Professor of Botany at the University of Munich and director of the Royal Botanic Garden, was carried to his grave in a coffin covered with fresh palm leaves. The fronds were a reference to his groundbreaking Natural History of Palms: a work in three volumes, published between 1823 and 1853. This encyclopedic treasury of 240 exquisite chromolithographic illustrations was based on von Martius's expeditions through Brazil and Peru. From 1817 to 1820, he traveled over 2,250 km (1,400 miles) through the Amazon basin to investigate natural history and native tribes with zoologist Johann Baptist von Spix. The result was an unrivaled catalogue of all known genera of the palm family, outlining the modern classification of palms, describing all the palms of Brazil, and producing the first maps of palm biogeography. Von Martius's folio is unusual in its inclusion of cross-sectioned diagrams, conveying the architecture of these mighty trees, which central Europeans would have found hard to imagine accurately. Equally remarkable are the color landscapes showing various palms-often standing alone in simple and elegant beauty.

The Package Design Book
,
Wiedemann Julius
Packaging is a highly underrated art form. As the first thing a consumer sees when looking at a product, it can make or break a sale. Every year, the Pentawards celebrate the art of the package by recognizing the world's most groundbreaking and influential designs. Designers compete in five main categories — beverages, food, body, luxury, and other markets — and no fewer than 50 sub-categories. Featuring a selection of hundreds of works, this book brings together Pentawards winners from 2008 to 2016, providing a vivid demonstration of creativity in every form of packaging. Readers will discover, through product descriptions and plenty of images, what drives design industry leaders and agencies behind these creations, which permeate all aspects of our everyday lives. This well of inspiration will not just serve design and marketing professionals, but anyone with an interest in the creative process of packaging.

Annie Leibovitz. The Early Years, 1970-1983
,
Веннер Ян Саймон
Annie Leibovitz's photographic beginnings and Rolling Stone reportage For more than half a century, Annie Leibovitz has been taking culture-defining photographs. Her portraits of politicians, performers, athletes, businesspeople, and royalty make up a gallery of our time, imprinted on our collective consciousness by both the singularity of their subjects and Leibovitz's inimitable style. The catalogue to an installation at the LUMA Foundation in Arles, France, Annie Leibovitz: The Early Years, 1970-1983 returns to Leibovitz's origins. It begins with a moment of artistic revelation: the spontaneous shot that made Leibovitz think she could transition from painting to photography as her area of study at the San Francisco Art Institute. The meticulously and personally curated collection, including contact sheets and Polaroids, provides a vivid document both of Leibovitz's development as a young artist and of a pivotal era. Leibovitz's reportage-like photo stories for Rolling Stone, which she began working for when she was still a student, record such heady political, cultural, and counter-cultural developments as the Vietnam War protests, the launch of Apollo 17, the presidential campaign of 1972, Richard Nixon's resignation in 1974, and the Rolling Stones on tour in 1975. Then, as now, Leibovitz won the trust of the prominent and famous, and the book's pages are animated by many familiar faces, among them Muhammad Ali, Mick Jagger, Keith Richards, Ken Kesey, Patti Smith, Bruce Springsteen, Joan Didion, and Debbie Harry, as well as John Lennon and Yoko Ono, captured in their now iconic embrace just hours before Lennon was assassinated. Throughout the book, the portraits and reportage are linked to images of cars, driving, and even a series on California highway patrolmen. In many ways, it's a celebration of life on the road-the frenetic rhythms, the chance encounters, the meditative opportunities. And with its rich archival aspects, it is also a tribute to an earlier time and a young photographer enmeshed in a culture that was itself in transition.

Caravaggio. The Complete Works
,
Schutze Sebastian
The mysterious genius who transformed European art Caravaggio, or more accurately Michelangelo Merisi da Caravaggio (1571-1610), was always a name to be reckoned with. Notorious bad boy of Italian painting, the artist was at once celebrated and controversial: violent in temper, precise in technique, a creative master, and a man on the run. Today, he is considered one of the greatest influences in all art history. This edition offers a neat and comprehensive Caravaggio catalogue raisonne. Each of his paintings is reproduced from recent top-quality photography, allowing for a vivid encounter with the artist's ingenious repertoire of looks and gestures, as well as numerous detail shots of his boundary-breaking naturalism. Five accompanying chapters trace the complete arc of Caravaggio's career from his first public commissions in Rome through to his growing celebrity status and trace his tempestuous personal life, in which drama loomed as prominently as in his canvases.

A Treasury of Wintertime Tales. 13 Tales from Snow Days to Holidays
,
Hoffmann Hilda
,
Nerman Einar
,
Anglund Joan Walsh
Despite its chilly weather and barren landscapes, wintertime has inspired some of the most magical and heartwarming stories in history. This season of celebration, frost and snow, religion, tradition, and adventure has produced such holiday classics as Clement Moore's 'Twas the Night Before Christmas, and such colorful tales as the account of a pre-Christmas Posada parade in Mexico City. A Treasury of Wintertime Tales pays homage to this rich variety of winter storytelling with 13 tales dating from 1823 to 1972. Featuring authors and illustrators of American, German, Hungarian, Italian, Mexican, Norwegian, Russian, and Swedish descent, it includes stories about playful snowflakes that have come to life, losing one's mittens, encounters with the Sami people in Northern Scandinavia, celebrating the Chinese New Year, and more. Each tale has been chosen for its inspiring artwork and soulful plot, resulting in a carefully curated collection of adventure, community, and culture.

Vermeer. The Complete Works
Despite numbering at just 35, his works have prompted a New York Times best seller; a film starring Scarlett Johansson and Colin Firth; record visitor numbers at art institutions from Amsterdam to Washington, DC; and special crowd-control measures at the Mauritshuis, The Hague, where thousands flock to catch a glimpse of the enigmatic and enchanting Girl with a Pearl Earring, also known as the «Dutch Mona Lisa». In his lifetime, however, the fame of Johannes Vermeer (1632-1675) barely extended beyond his native Delft and a small circle of patrons. After his death, his name was largely forgotten, except by a few Dutch art collectors and dealers. Outside of Holland, his works were even misattributed to other artists. It was not until the mid-19th century that Vermeer came to the attention of the international art world, which suddenly looked upon his narrative minutiae, meticulous textural detail, and majestic planes of light, spotted a genius, and never looked back.

Small Architecture
,
Jodidio Philip
Big ideas for small buildings Over the years, talented architects have occasionally indulged themselves with the challenge of designing small but perfectly formed buildings. Today, with reduced budgets, many architects have turned in a more focused way to creating works that may be diminutive in their dimensions, but are definitely big when it comes to trendsetting ideas. Whether in Japanese cities, where large sites are hard to come by, or at the frontier between art and architecture, small buildings present many advantages, and push their designers to do more with less. A dollhouse for Calvin Klein in New York, a playhouse for children in Trondheim, vacation cabins, and housing for victims of natural disasters are all part of the new rush to develop the great small architecture of the moment. The 2013 Pritzker Prize winner Toyo Ito is here, but so are emergent architects from Portugal, Chile, England, and New Zealand. From world-famous names to the freshest new talent, come discover architectural invention on a whole new, small scale.

A Garden Eden. Masterpieces of Botanical Illustration
,
Lack H. Walter
Botanical masterworks from the National Library of Vienna In pursuit of both knowledge and delight, the craft of botanical illustration has always required not only meticulous draftsmanship but also a rigorous scientific understanding. This new edition of a TASCHEN classic celebrates the botanical tradition and talents with a selection of outstanding works from the National Library of Vienna, including many new images. From Byzantine manuscripts right through to 19th-century masterpieces, through peonies, callas, and chrysanthemums, these exquisite reproductions dazzle in their accuracy and their aesthetics. Whether in gently furled leaves, precisely textured fruits, or the sheer beauty and variety of colors, we celebrate an art form as tender as it is precise, and ever more resonant amid our growing awareness of our ecological surroundings and the preciousness of natural flora.

The Fairy Tales. Grimm & Andersen. 2 in 1
,
Brothers Grimm
,
Андерсен Ханс Кристиан
Selected fairy tales by the Brothers Grimm and Andersen in a new edition. More than 200 years ago, two brothers from Kassel, Jacob and Wilhelm Grimm, published the first volume of their collection of German folktales. Over time the stories in their collection grew until finally they numbered 200 fairy tales and ten legends. What was initially an attempt to preserve German traditions for posterity is today the most widely read collection of stories after the Bible. From Snow White to Cinderella and Rapunzel to Rumpelstiltskin, the Brothers Grimm left behind a canon of fairy tales that have become classics of children's literature, part of the UNESCO world heritage, and an indispensable piece of our history and culture. Hans Christian Andersen's own life seemed to be out of a fairy tale-Charles Dickens was among his friends and admirers, and European princes held him in high regard. Through determination, talent, many a fortunate coincidence, and an exuberant imagination, he came out of impoverished circumstances to write himself into world literature. A fairytale kingdom without Andersen would be very impoverished itself and would have to do without characters such as the Snow Queen, the Princess and the Pea, Thumbelina or the Little Match Girl, but also many previously inanimate items which Andersen brought to life: silver shillings and darning needles, and especially his Steadfast Tin Soldier. The Grimms' and Andersen's tales have inspired generations of artists, and each fairy tale in this volume is colorfully interpreted by a famous illustrator: legends such as Kay Nielsen (a leading exponent of the Golden Age of Illustration that ended in the 1920s), the Arts and Crafts master Walter Crane, Arthur Rackham, and the Swiss commercial artist Herbert Leupin. Alongside are silhouettes from historical publications as well as new vignettes that were made especially for this edition, which dance across the pages in an intricate shadow play. Introductory essays, on the fairy tales of the Brothers Grimm as reflected in art and on Andersen as the heart and soul of the modern fairy tale, complement these flights of fancy, as do the short summaries on each fairy tale and artists' biographies. This double-sided book contains the fairy tales of the Brothers Grimm on one side and Hans Christian Andersen's tales on the other, each with its own cover.