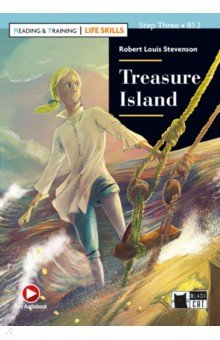 Автор:
Stevenson Robert Louis
Издательство:
Black cat
Год издания: 2020
ISBN: 9788853019356
Серия:
R&T B1.2
Наличие:
на складе
One day in eighteenth-century Bristol, an old sea captain arrives at an inn. This is where young Jim Hawkins adventures begin. After finding a treasure map, Jim set sails to find the mysterious Treasure Island in the company of Dr Livesey, Squire Trelawney and the ship's cook, Long John Silver. An exciting tale of pirates, mutiny and buried treasure; will the voyage end as well as they had hoped?


Другие товары в серии «R&T B1.2»

The Picture of Dorian Gray
,
Wilde Oscar
When the beautiful young Dorian Gray sees his portrait, he understands that it will remain beautiful forever and that he will grow old. He makes a wish that will change not only his looks but also his soul. As he lives a life of pleasure and sin, the portrait shows the signs of his corruption.

Strange Case of Doctor Jeckyll and Mr Hyde+App+DeA
,
Stevenson Robert Louis
A respected scientist, a mysterious will, a strange door and an evil and violent man. What connects these people and events? Mr Utterson, a lawyer and friend to Dr Jekyll, has decided to find out. One of Stevenson's best-loved novels: a thrilling story of science, curiosity and the darker side of human nature.

Time Machine + CD + App
,
Wells Herbert George
The Time Traveller visits the year 802,701. The people seem to live peacefully with nothing to do but eat fruit, gather flowers and play. But what is the hidden secret of this world? What happens on the darkest night? In one of the greatest science fiction novels, H.G. Wells explores the future of the human race.