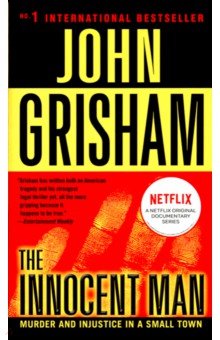 Автор:
Grisham John
Издательство:
RH USA
Год издания: 2007
ISBN: 9780440243830
Наличие:
на складе
In the town of Ada, Oklahoma, Ron Williamson was going to be the next Mickey Mantle. But on his way to the Big Leagues, Ron stumbled, his dreams broken by drinking, drugs, and women. Then, on a winter night in 1982, not far from Ron's home, a young cocktail waitress named Debra Sue Carter was savagely murdered. The investigation led nowhere. Until, on the flimsiest evidence, it led to Ron Williamson. The washed-up small-town hero was charged, tried, and sentenced to death--in a trial littered with lying witnesses and tainted evidence that would shatter a man's already broken life...and let a true killer go free. Impeccably researched, grippingly told, filled with eleventh-hour drama, John Grisham's first work of nonfiction reads like a page-turning legal thriller. It is a book that will terrify anyone who believes in the presumption of innocence--a book no American can afford to miss.


The Firm
,
Grisham John
RH USA
2021, ISBN: 9780440245926
When Mitch McDeere signed on with Bendini, Lambert & Locke of Memphis, he thought that he and his beautiful wife, Abby, were on their way. The firm leased him a BMW, paid off his school loans, arranged a mortgage, and hired the McDeeres a decorator. Mitch should have remembered what his brother Ray-doing fifteen years in a Tennessee jail-already knew: You never get nothing for nothing. Now the FBI has the lowdown on Mitch's firm and needs his help. Mitch is caught between a rock and a hard place, with no choice-if he wants to live.
Becoming
,
Obama Michelle
RH USA
2021, ISBN: 9781524763145
In a life filled with meaning and accomplishment, Michelle Obama has emerged as one of the most iconic and compelling women of our era. As First Lady of the United States of America-the first African American to serve in that role-she helped create the most welcoming and inclusive White House in history, while also establishing herself as a powerful advocate for women and girls in the U.S. and around the world, dramatically changing the ways that families pursue healthier and more active lives, and standing with her husband as he led America through some of its most harrowing moments. Along the way, she showed us a few dance moves, crushed Carpool Karaoke, and raised two down-to-earth daughters under an unforgiving media glare. In her memoir, a work of deep reflection and mesmerizing storytelling, Michelle Obama invites readers into her world, chronicling the experiences that have shaped her-from her childhood on the South Side of Chicago to her years as an executive balancing the demands of motherhood and work, to her time spent at the world's most famous address. With unerring honesty and lively wit, she describes her triumphs and her disappointments, both public and private, telling her full story as she has lived it-in her own words and on her own terms. Warm, wise, and revelatory, Becoming is the deeply personal reckoning of a woman of soul and substance who has steadily defied expectations-and whose story inspires us to do the same.
The Elfstones of Shannara
,
Brooks Terry
RH USA
2015, ISBN: 9781101886052
Thousands of years after the destruction of the age of man an d science, new races and magic now rule the world, but an imminent danger threatens. A horde of evil Demons is beginning to escape and bring death upon the land. Only Wil Ohmsford, the last of the Shannara bloodline, has the power to guard the Elven Princess Amberle on a perilous quest to the save the world, while the leader of the Demon force aims to stop their mission at any cost.

Richard Scarry's Best Bunny Book Ever!
,
Scarry Richard
Naughty Bunny: The beloved Richard Scarry has created one of his most endearingly naughty characters ever. This little bunny doesn't deliberately try to be naughty, but sometimes — more often than not — that's exactly what happens. Whether he is startling his mother with a loud TV, drawing on the wall, or making a fuss at nap time, the little bunny proves that even the naughtiest of children can be the most loveable. Bunnies: Scarry introduces readers to all kinds of rabbits with wit and humor-from real-life breeds such as the Vienna Blue and lop-eared, to his whimsical clothed bunny characters ("Rabbits like to all get dressed up if they are going to be in a story book."). The Bunny Book: What will the little bunny be when he grows up? A fireman? A cowboy? A lion tamer? Each member of his family has a hunch in this classic story that is one of Richard Scarry's best!

The Poky Little Puppy's Wonderful Winter Day
,
Chandler Jean
Great news for Poky Little Puppy fans! An adorable story about tumble-bumble winter fun! It's a snowy morning, and Poky and his four brothers and sisters can't wait to get outside and play! They dig tunnels, slide down hills, and make snow angels. But where is that poky little puppy? He's chasing snowballs with the neighbor children! And that night when he's tucked in, he dreams happily about his wonderful winter day. Out of print for decades, this story is back in print to delight Poky's readers.

The Nutcracker
The Little Golden Book version of the Christmas classic, The Nutcracker, is the perfect gift to bring holiday magic to readers of all ages! The Nutcracker is back in print as a Little Golden Book, with all-new illustrations by Sheilah Beckett, who started illustrating Golden Books in the 1950s. This lovely retelling of the famous ballet will be a perfect holiday gift for any child who loves the ballet, Christmas stories, and fairy tales!
The Little Red Box of Bright and Early Board Books
,
Eastman P.D
A boxed set of four board books featuring P.D. Eastman's famous dogs! Tucked inside this little red box topped with a sturdy handle are board book adaptations of the classic Beginner Books by P.D. Eastman: Go, Dog. Go!; Big Dog . . . Little Dog; The Alphabet Book; and Michael Frith's I'll Teach My Dog a Lot of Words. Perfect for the holidays, baby showers, and happy occasions of all kinds, this is a literacy-nurturing gift that babies can literally sink their teeth into!

The X-Files. Earth Children Are Weird
,
Smith Kim
Best pals Dana (Scully) and Fox (Mulder) have pitched a tent in the backyard for a sleepover. But the night is full of strange sounds, lights, and shadows. Surely there's a rational, scientific explanation for everything . . . or is there? With beautiful illustrations of pint-sized Dana and Fox, this humorous and not-scary-at-all story will introduce the cult TV show to an entire new generation of fans.
The Lost Symbol
,
Brown Dan
In this stunning follow-up to the global phenomenon The Da Vinci Code, Dan Brown demonstrates once again why he is the world's most popular thriller writer. The Lost Symbol is a masterstroke of storytelling-a deadly race through a real-world labyrinth of codes, secrets, and unseen truths . . . all under the watchful eye of Brown's most terrifying villain to date. Set within the hidden chambers, tunnels, and temples of Washington, D.C., The Lost Symbol accelerates through a startling landscape toward an unthinkable finale. As the story opens, Harvard symbologist Robert Langdon is summoned unexpectedly to deliver an evening lecture in the U.S. Capitol Building. Within minutes of his arrival, however, the night takes a bizarre turn. A disturbing object -artfully encoded with five symbols-is discovered in the Capitol Building. Langdon recognizes the object as an ancient invitation . . . one meant to usher its recipient into a long-lost world of esoteric wisdom. When Langdon's beloved mentor, Peter Solomon-a prominent Mason and philanthropist -is brutally kidnapped, Langdon realizes his only hope of saving Peter is to accept this mystical invitation and follow wherever it leads him. Langdon is instantly plunged into a clandestine world of Masonic secrets, hidden history, and never-before-seen locations-all of which seem to be dragging him toward a single, inconceivable truth. As the world discovered in The Da Vinci Code and Angels & Demons, Dan Brown's novels are brilliant tapestries of veiled histories, arcane symbols, and enigmatic codes. In this new novel, he again challenges readers with an intelligent, lightning-paced story that offers surprises at every turn. The Lost Symbol is exactly what Brown's fans have been waiting for . . . his most thrilling novel yet.

I'm Not Sleepy
A lively little fox isn't ready for bed in this Little Golden Book that every parent will be able to relate to. It's bedtime for a precocious little fox in this endearing and humorous Little Golden Book! Unforunately, little fox has far more energy than father fox has bargained for. Featuring delightfully warm illustrations and a story that all parents will relate to, I'm Not Sleepy will make a perfect addition to your very own little fox's bedtime routine.

Dreamworks How To Train Your Dragon
Hiccup, Toothless, and the dragons of Berk return in this Little Golden Book retelling of DreamWorks' hit movie How to Train Your Dragon-it's perfect for children ages 3 to 5 and fans of all ages! More than anything, Hiccup wants to capture dragons-that is, until he actually catches one! And so begins the incredible story of one of the most unlikely yet unforgettable friendships ever made. A story about believing in your friends and believing in yourself, How to Train Your Dragon is finally retold in this Little Golden Book!
The Stand
,
King Stephen
RH USA
2020, ISBN: 9780593313886
The tie-in edition of the nine-part CBS All Access series starring Whoopi Goldberg, Alexander Skarsgard, and James Marsden. When a man escapes from a biological testing facility, he sets in motion a deadly domino effect, spreading a mutated strain of the flu that will wipe out 99 percent of humanity within a few weeks. The survivors who remain are scared, bewildered, and in need of a leader. Two emerge--Mother Abagail, the benevolent 108-year-old woman who urges them to build a peaceful community in Boulder, Colorado; and Randall Flagg, the nefarious Dark Man, who delights in chaos and violence. As the dark man and the peaceful woman gather power, the survivors will have to choose between them--and ultimately decide the fate of all humanity.