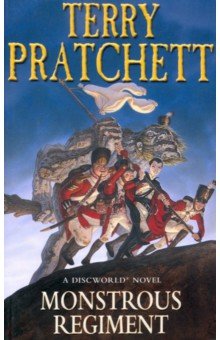 Автор:
Pratchett Terry
Издательство:
Transworld
Год издания: 2004
ISBN: 9780552149419
Серия:
Discworld Novels
Наличие:
на складе
It began as a sudden strange fancy . . . Polly Perks had to become a boy in a hurry. Cutting off her hair and wearing trousers was easy. Learning to fart and belch in public and walk like an ape took more time . . . And now she's enlisted in the army, and searching for her lost brother. But there's a war on. There's always a war on. And Polly and her fellow recruits are suddenly in the thick of it, without any training, and the enemy is hunting them. All they have on their side is the most artful sergeant in the army and a vampire with a lust for coffee. Well . . . They have the Secret. And as they take the war to the heart of the enemy, they have to use all the resources of . . . the Monstrous Regiment.



Pyramids
,
Pratchett Terry
Being trained by the Assassin's Guild in Ankh-Morpork did not fit Teppic for the task assigned to him by fate. He inherited the throne of the desert kingdom of Djelibeybi rather earlier than he expected (his father wasn't too happy about it either), but that was only the beginning of his problems... PYRAMIDS (THE BOOK OF GOING FORTH) IS THE SEVENTH DISCWORLD NOVEL — AND THE MOST OUTRAGEOUSLY FUNNY TO DATE.

Moving Pictures
,
Pratchett Terry
The alchemists of the Discworld have discovered the magic of the silver screen. But what is the dark secret of Holy Wood hill? It's up to Victor Tugelbend («Can't sing. Can't dance. Can handle a sword a little. ") and Theda Withel ("I come from a little town you've probably never heard of») to find out... Moving Pictures, the ninth Discworld novel is a gloriously funny saga set against the background of a world gone mad!

Maskerade
,
Pratchett Terry
THE SHOW MUST GO ON, AS MURDER, MUSIC AND MAYHEM RUN RIOT IN THE NIGHT... The Opera House, Ankh-Morpork...a huge, rambling building, where innocent young sopranos are lured to their destiny by a strangely-familiar eveil mastermind in a hideously-deformed evening dress... At least, he hopes so. But Granny Weatherwax, Discworld's most famous witch, is in the audience. And she doesn't hold with that sort of thing. So there's going to be trouble (but nevertheless a good evenin's entertainment with murders you can really hum...)

The Light Fantastic
,
Pratchett Terry
'Panic?' said Rincewind hopefully. He always held that panic was the best means of survival. When the very fabric of time and space are about to be put through the wringer — in this instance by the imminent arrival of a very large and determinedly oncoming meteorite — circumstances require a very particular type of hero. Sadly what the situation does not need is a singularly inept wizard, still recovering from the trauma of falling off the edge of the world. Equally it does not need one well-meaning tourist and his luggage which has a mind of its own. Which is a shame because that's all there is...

Interesting Times
,
Pratchett Terry
MIGHTY BATTLES! REVOLUTION! DEATH! WAR! (AND HIS SONS TERROR AND PANIC, AND DAUGHTER CLANCY) The oldest and most inscrutable empire on the Discworld is in turmoil, brought about by the revolutionary treatise What I did on My Holidays. Workers are uniting, with nothing to lose but their water buffaloes. Warlords are struggling for power. War (and Clancy) are spreading throughout the ancient cities. And all that stands in the way of terrible doom for everyone is: Rincewind the Wizard, who can't even spell the word 'wizard'... Cohen the barbarian hero, five foot tall in his surgical sandals, who has had a lifetime's experience of not dying... ...and a very special butterfly.

The Truth
,
Pratchett Terry
William de Worde is the accidental editor of the Discworld's first newspaper. Now he must cope with the traditional perils of a journalist's life — people who want him dead, a recovering vampire with a suicidal fascination for flash photography, some more people who want him dead in a different way and, worst of all, the man who keeps begging him to publish pictures of his humorously shaped potatoes. William just wants to get at THE TRUTH. Unfortunately, everyone else wants to get at William. And it's only the third edition... The Truth is Terry Pratchett's 25th Discworld novel.

Thief of Time
,
Pratchett Terry
Time is a resource. Everyone knows it has to be managed. And on the Discworld that is the job of the Monks of History, who store it and pump it from the places where it's wasted (like the underwater — how much time does a codfish need?) to places like cities, where there's never enough time. But the construction of the world's first truly accurate clock starts a race against, well, time for Lu Tze and his apprentice Lobsang Ludd. Because it will stop time. And that will only be the start of everyone's problems. THIEF OF TIME comes complete with a full supporting cast of heroes, villains, yetis, martial artists and Ronnie, the fifth Horseman of the Apocalypse (who left before they became famous).

Sourcery
,
Pratchett Terry
When last seen, the singularly inept wizard Rincewind had fallen off the edge of the world. Now magically, he's turned up again, and this time he's brought the Luggage.But that's not all...Once upon a time, there was an eighth son of an eighth son who was, of course, a wizard. As if that wasn't complicated enough, said wizard then had seven sons. And then he had an eighth son — a wizard squared (that's all the math, really). Who of course, was a source of magic — a sorcerer.

Soul Music
,
Pratchett Terry
OTHER CHILDREN GET GIVEN XYLOPHONES. SUSAN JUST HAD TO ASK HER GRANDFATHER TO TAKE HIS VEST OFF. Yes. There's a Death in the family. It's hard to grow up normally when Grandfather rides a white horse and wields a scythe — especially when you have to take over the family business, and everyone mistakes you for the Tooth Fairy. And especially when you have to face the new and addictive music that has entered Discworld. It's lawless. It changes people. It's called Music With Rocks In. It's got a beat and you can dance to it, but... It's alive. And it won't fade away.

The Long Mars (Long Earth 3)
,
Pratchett Terry
From the combined talents of the UK's bestselling novelist and a giant of British science fiction comes the dazzling new chapter in the extraordinary and bestselling The Long Earth sequence. 2040-2045: In the years after the cataclysmic Yellowstone eruption there is massive economic dislocation as populations flee Datum Earth to myriad Long Earth worlds. Sally, Joshua, and Lobsang are all involved in this perilous work when, out of the blue, Sally is contacted by her long-vanished father and inventor of the original Stepper device, Willis Linsay. He tells her he is planning a fantastic voyage across the Long Mars and wants her to accompany him. But Sally soon learns that Willis has an ulterior motive for his request: he needs her help to trace an advanced alien technology which, he believes, will help mankind''s post-Yellowstone recovery. Meanwhile U. S. Navy Commander Maggie Kauffman has embarked on an incredible journey of her own, leading an expedition to the outer limits of the far Long Earth. For Joshua, the crisis he faces is much closer to home. He becomes embroiled in the plight of the Next: the super-bright post-humans who are beginning to emerge from their 'long childhood' in the community called Happy Landings, located deep in the Long Earth. Ignorance and fear have caused 'normal' human society to turn against the Next, and the authorities, afraid of anything or anyone not deemed 'normal', order that all Next children be imprisoned. Joshua is determined to liberate the children — and a dramatic showdown over the inhumanity of humans against their own kind seems inevitable.

The Last Continent
,
Pratchett Terry
IT'S THE DISCWORLD'S LAST CONTINENT AND IT'S GOING TO DIE IN A FEW DAYS, EXCEPT... Who is this hero striding across the red desert? Sheep shearer, beer drinker, bush ranger, and someone who'll even eat a Meat Pie Floater when he's sober. A man in a hat whose luggage follows him on little legs. Yes, it's Rincewind, the inept wizard who can't even spell wizard. He's the only hero left. Still...no worries, eh?

I Shall Wear Midnight
,
Pratchett Terry
A MAN WITH NO EYES. NO EYES AT ALL. TWO TUNNELS IN HIS HEAD. Somewhere — some time — there's a tangled ball of evil and spite, of hatred and malice, that has woken up. And it's waking up all the old stories too — stories about evil old witches . . .