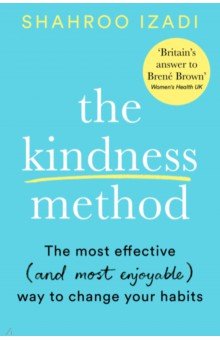 Автор:
Izadi Shahroo
Издательство:
Pan Macmillan
Год издания: 2021
ISBN: 9781509881833
Наличие:
на складе
Map your habits, set your own goals and treat yourself with the kindness you truly deserve. Shahroo Izadi has a revolutionary message: treating yourself kindly is the only way to make changes that last. She is living proof that her method works — after years of yo-yo dieting she shed over eight stone (and has kept it off ever since). Professional training coupled with personal experience led her to develop The Kindness Method, a totally non-judgemental approach which turns strict regimes upside down to leave you feeling empowered, positive and ready to embrace change. In The Kindness Method, Behavioural Change Specialist Shahroo invites you first, to give yourself a break — life can be stressful — and then learn how to strengthen your willpower like a muscle so you can sustain motivation for the long haul. These techniques may seem gentle, but the results are life-changing because the plan is tailored to you, and they can work for everything from alcohol addiction to procrastination to weight loss. By using the same techniques that she has used to help substance addicts recover from dependence, you too will find that you have the power to change — for good.



To Sleep in a Sea of Stars
,
Paolini Christopher
'Action-packed SF adventure that zings along at hyperluminal speed' — Peter F. Hamilton Goodreads Choice Award for Best Science Fiction Novel To Sleep in a Sea of Stars is a masterful epic science fiction novel from the New York Times and Sunday Times bestselling author of the Inheritance Cycle, Christopher Paolini. Kira Navarez dreamed of life on new worlds Now she's awakened a nightmare During a routine survey mission on an uncolonized planet, Kira finds an alien relic. At first she's delighted, but elation turns to terror when the ancient dust around her begins to move. As war erupts among the stars, Kira is launched into a galaxy-spanning odyssey of discovery and transformation. First contact isn't at all what she imagined, and events push her to the very limits of what it means to be human. While Kira faces her own horrors, Earth and its colonies stand upon the brink of annihilation. Now, Kira might be humanity's greatest and final hope . . . Praise for Christopher Paolini and his work: 'Christopher Paolini is a true rarity' — Washington Post 'An authentic work of great talent' — New York Times Book Review 'A breathtaking and unheard of success' — USA Today 'Christopher Paolini make[s] literary magic' — People A powerful piece of SF, with intelligent writing and big ideas Adrian Tchaikovsky Paolini's impressive imagination has produced an action-packed SF adventure that zings along at hyperluminal speed, with Kira as one of the most memorable characters of the genre Peter F. Hamilton Rollicking pace, rapidly developing stakes . . . A fun, fast-paced epic that science fiction fans will gobble up Kirkus Reviews

Royal
,
Steel Danielle
In this spellbinding tale from Danielle Steel, a princess is sent away to safety during World War II, where she falls in love, and is lost forever. As the war rages on in the summer of 1943, causing massive destruction and widespread fear, the King and Queen choose to quietly send their youngest daughter, Princess Charlotte, to live with a trusted noble family in the Yorkshire countryside. Despite her fiery, headstrong nature, the princess's fragile health poses far too great a risk for her to remain in war-torn London. Third in line to the throne, seventeen year-old Charlotte reluctantly uses an alias upon her arrival in Yorkshire, her two guardians the only keepers of her true identity. A talented horsewoman, Charlotte begins to enjoy life out of the spotlight, concentrating on training with her beloved horse. But no one predicts that in the coming months she will fall deeply in love with her protectors' son. Far from her parents, a tragic turn of events leaves an infant orphaned. Alone in the world, that child will be raised in the most humble circumstances by a modest stable manager and his wife. No one, not even she, knows of her lineage. But when a stack of hidden letters comes to light, a secret kept for nearly two decades finally surfaces, and a long lost princess emerges. A fascinating story of family and royalty, and an unforgettable portrait of an extraordinary young woman and the man who brings her home, Royal is an exhilarating work from the world's favourite storyteller.

Wild
,
Hannah Kristin
From the New York Times number one bestselling author of The Nightingale and The Great Alone, Kristin Hannah, comes Wild, a remarkable story about the resilience of the human spirit, the triumph of hope and the promise of new beginnings. In the rugged Pacific Northwest of the United States lies the Olympic National Forest — a vast expanse of impenetrable darkness and impossible beauty. From deep within this mysterious woodland, a six-year-old girl appears. Speechless and alone, she offers no clue as to her identity, no hint of her past. Having retreated to her hometown after a scandal left her career in ruins, child psychiatrist Dr Julia Cates begins working with the extraordinary little girl. Naming her Alice, Julia is determined to free her from a prison of unimaginable fear and isolation, and discover the truth about Alice's past. The shocking facts of Alice's life test the limits of Julia's faith and strength, even as she struggles to make a home for Alice — and find a new one for herself.

Silent Voices
,
Cleeves Ann
No murder is ever simple . . . When DI Vera Stanhope finds the body of a woman in the sauna room of her local gym, at first, she thinks it is a death from natural causes. But then Vera spots ligature marks around the victim's throat and has another murder case on her hands. The victim is Jenny Lister, who was an experienced social worker, but her neighbours are quick to inform Vera about Jenny's involvement in a notorious case. A young child tragically died and a member of Jenny's team was subsequently fired and vilified by the media. As Vera tries to pry information from the secretive community another body is found, and Vera finds herself in a race against time to stop the killer.

The Saints of Salvation
,
Hamilton Peter F.
Humanity welcomed the Olyix and their utopian technology. But mankind was tricked. Now these visitors are extracting a terrible price. For two years, the Olyix have laid siege to Earth, harvesting its people for their god. One by one, cities are falling to their devastating weaponry. And while millions have fled to seek refuge in space, others continue to fight an apparently unwinnable war. As Earth's defeat draws near, a team attempts to infiltrate the Salvation of Life — the Olyix's arkship. If it succeeds, those chosen will travel to a hidden enclave thousands of light years away. Once there, they must signal its location to future generations, to bring the battle to the enemy. Maybe allies scattered throughout space and time can join forces. Yet in the far future, humanity are still hunted by their ancient adversary. And as forces battle on in the cold reaches of space, hope seems distant indeed . . .

The Numbers Game
,
Steel Danielle
Relationships come together, fall apart and are reinvented over time in this warm-hearted novel by the world's favourite storyteller, Danielle Steel. Eileen Jackson was happy to set aside her own career dreams in order to raise a family with her husband Paul. But when she discovers Paul's affair with a younger woman, she begins to question all those years of sacrifice and compromise. On the brink of forty, she fears it is too late to start over. Meanwhile, Paul's girlfriend Olivia is struggling to find herself while in the shadow of her mother, a famous actress, and her grandmother, a fiercely independent artist. With their love and support, Olivia takes a major professional step. But she realizes she still has much to learn about herself before committing her life to someone else. Ultimately, Eileen decides to chase her own dreams as well, thousands of miles away in Paris. What awaits is an adventure that transforms her life. At every age, there are challenges to be met and new worlds to discover. The Numbers Game is a reminder that it's never too late to turn a new page and start again.

The Moment of Lift
,
Gates Melinda
In this moving and compelling book, Melinda shares the stories of the inspiring people she's met during her work and travels around the world and the lessons she's learned from them. As she writes in the introduction, "That is why I had to write this book — to share the stories of people who have given focus and urgency to my life. I want all of us to see ways we can lift women up where we live." Melinda's unforgettable narrative is backed by startling data as she presents the issues that most need our attention — from child marriage to lack of access to contraceptives to gender inequity in the workplace. And, for the first time, she writes about her personal life and the road to equality in her own marriage. Throughout, she shows how there has never been more opportunity to change the world — and ourselves. When we lift others up, they lift us up, too.

The Korean War
,
Hastings Max
On 25 June 1950 the invasion of South Korea by the Communist North launched one of the bloodiest conflicts of the last century. The seemingly limitless power of the Chinese-backed North was thrown against the ferocious firepower of the UN-backed South in a war that can be seen today as the stark prelude to Vietnam. Max Hastings draws on first-hand accounts of those who fought on both sides to produce this vivid and incisive reassessment of the Korean War, bringing the military and human dimensions into sharp focus. Critically acclaimed on publication, republished with an introduction from the author, The Korean War remains the best narrative history of this conflict.

The Evening and the Morning
,
Follet Ken
From the bestselling author Ken Follett, The Evening and the Morning is a historical epic that will end where The Pillars of the Earth begins. A Time of Conflict It is 997 CE, the end of the Dark Ages. The king's grip on the country is fragile and chaos reigns. A young boat builder dreams of a better future after a devastating Viking raid shatters the life he hoped for. Lives Intertwined A Norman noblewoman follows her husband to a new land only to find her life there shockingly different; and a capable monk at Shiring Abbey has a vision of transforming his humble home into a centre of learning admired throughout Europe. The Dawn of a New Age Now, with England at the dawn of the Middle Ages, these three people will each come into dangerous conflict with a ruthless bishop, who will do anything to increase his wealth and power, in an epic tale of ambition, rivalry, love and hate. Thirty years ago we were introduced to Kingsbridge in The Pillars of the Earth, and now, in this masterful prequel international bestseller, Ken Follett will take us on a journey into a rich past, which will end where his masterpiece begins.

Dirk Gently's Holistic Detective Agency
,
Adams Douglas
Dirk Gently's Holistic Detective Agency by Douglas Adams, author of The Hitchhiker's Guide to the Galaxy, is a much-loved cult classic, that has spawned radio dramas, television, theatre and comic book adaptations across the globe. What do a dead cat, a computer whiz-kid, an Electric Monk who believes the world is pink, quantum mechanics, a Chronologist over two hundred years old, Samuel Taylor Coleridge (poet), and pizza have in common? Apparently not much; until Dirk Gently, self-styled private investigator, sets out to prove the fundamental interconnectedness of all things by solving a mysterious murder, assisting a mysterious professor, unravelling a mysterious mystery, and eating a lot of pizza — not to mention saving the entire human race from extinction along the way (at no extra charge). To find out more, read this book (better still, buy it then read it) — or contact Dirk Gently's Holistic Detective Agency.

Daylight
,
Baldacci David
Daylight is the gripping follow up to Long Road to Mercy and A Minute to Midnight featuring Special Agent Atlee Pine from one of the world's most favourite thriller writers, David Baldacci. The hunt Ever since Mercy was abducted aged six, Atlee has been relentless in her search for her. Finally, she gets her most promising breakthrough yet — the identity of her sister's kidnapper. The capture As Atlee and her assistant, Carol Blum, race to track down the suspect, they run into Pine's old friend and fellow agent, John Puller, who is investigating the suspect's family for another crime. The kill Working together, Pine and Puller must pull back the layers of deceit, lies and cover-ups that strike at the very heart of global democracy. And the truth about what happened to Mercy will finally be revealed. That truth will shock Atlee Pine to her very core.

Daddy's Girls
,
Steel Danielle
In Daddy's Girls, Danielle Steel's thought-provoking novel, three sisters discover the truth about their past and the importance of their unique bond. Many years have passed since ranch hand JT Tucker took his three small daughters to start a new life, eventually building the largest ranch in California. But success comes at a price, and with no mother in their life, Tucker's relationship with each of his very different daughters was complicated. Caroline, the youngest, was overlooked by her father. She fled the ranch as early as she could to become a wife and mother, pursuing a career writing children's books. Gemma, his declared favourite, yearned for Hollywood glamour and became a major TV star. Kate, the eldest, stayed to work on the ranch, forsaking relationships and family for a father who took her for granted. When JT dies suddenly, the paper trail he leaves behind reveals more than the sisters could ever have guessed. The truth brings a new reality, helping them to understand who they really are and what they really want.